PILOT – Attraction Checklist – Disneyland's It's A Small World – GrantCast #76
Podcast: Play in new window | Download (Duration: 19:56 — 15.5MB)
Subscribe: Apple Podcasts | RSS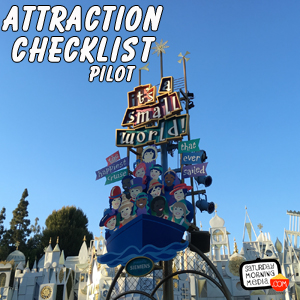 Interviews will return next week. This week, a pilot of a new podcast idea. This is not replacing GrantCast or 15 Minutes With, this would be it's own separate podcast, but I'm throwing it up on here to see what people think. If you're not a Disney fan, this'll probably be an episode to skip.
Borrowing from the amazing Window To The Magic podcast, the idea is simple. I pick one Disney Park attraction per episode, record the audio as I ride or experience it and then review the attraction afterwards. This first episode features a ride on Disneyland's It's A Small World and along for the ride is my friend Dave Marquez.
Give the episode a listen and then let me know if this is something you'd subscribe to or not. Thanks!
FOLLOW US
http://www.facebook.com/saturdaymorningmedia
http://www.twitter.com/SaturdayMMedia
https://plus.google.com/+Saturdaymorningmedia
https://www.linkedin.com/company/saturday-morning-media
http://www.youtube.com/user/SaturdayMorningMedia?sub_confirmation=1

FOLLOW GRANT
http://www.MrGrant.com
http://www.twitter.com/toasterboy
https://instagram.com/throwingtoasters/
SUBSCRIBE
http://www.youtube.com/user/SaturdayMorningMedia?sub_confirmation=1