15 Minutes With celebrity Toiley T. Paper – GrantCast #113
Podcast: Play in new window | Download (Duration: 21:34 — 16.6MB)
Subscribe: Apple Podcasts | RSS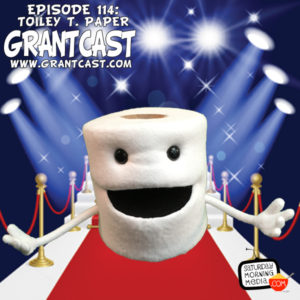 http://www.grantcast.com – In the world of entertainment, they don't come much bigger than Toiley T. Paper!  He's done it all: movies, television and even the stage!  For this interview we sit down with Toiley to find out about where he came from and his meteoric rise to stardom.
CONNECT WITH TOILEY:
WEBSITE – http://www.thetoiley.com
FACEBOOK – http://www.facebook.com/thetoiley
TWITTER – http://www.twitter.com/thetoiley
INSTAGRAM – http://www.instagram.com/thetoiley

Help us make more shows like this one.  Become a patron of Saturday Morning Media and get cool rewards!  Visit http://patreon.com/saturdaymorningmedia for info!
FOLLOW US
http://www.facebook.com/saturdaymorningmedia
http://www.twitter.com/SaturdayMMedia
https://plus.google.com/+Saturdaymorningmedia
https://www.linkedin.com/company/saturday-morning-media
http://www.youtube.com/user/SaturdayMorningMedia?sub_confirmation=1
FOLLOW GRANT
http://www.MrGrant.com
http://www.twitter.com/toasterboy
https://instagram.com/throwingtoasters/