15 Minutes With comedian Dave Reinitz – GrantCast #108
Podcast: Play in new window | Download (Duration: 26:05 — 20.0MB)
Subscribe: Apple Podcasts | RSS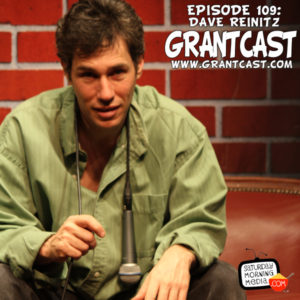 http://www.grantcast.com – Dave Reinitz is a comedian and the co-owner of Flappers Comedy Club in Burbank.  We talk his creative career including playing Strat-o-Matic as a kid, making a documentary about his mother, his passion for gardening and more.
CONNECT WITH DAVE:
WEBSITE – http://davereinitz.com
99% Funnies – http://www.99percentfunnies.com
TWITTER – https://twitter.com/99PercentFunnie
FLAPPERS – http://flapperscomedy.com
DOCUMENTARY – https://www.youtube.com/watch?v=i23ag7TPRA8
Help us make more shows like this one.  Become a patron of Saturday Morning Media and get cool rewards!  Visit http://patreon.com/saturdaymorningmedia for info!
FOLLOW US
http://www.facebook.com/saturdaymorningmedia
http://www.twitter.com/SaturdayMMedia
https://plus.google.com/+Saturdaymorningmedia
https://www.linkedin.com/company/saturday-morning-media
http://www.youtube.com/user/SaturdayMorningMedia?sub_confirmation=1
FOLLOW GRANT
http://www.MrGrant.com
http://www.twitter.com/toasterboy
https://instagram.com/throwingtoasters/