15 Minutes With actor, writer, director Tom Konkle – GrantCast EPISODE #103
Podcast: Play in new window | Download (Duration: 25:39 — 19.4MB)
Subscribe: Apple Podcasts | RSS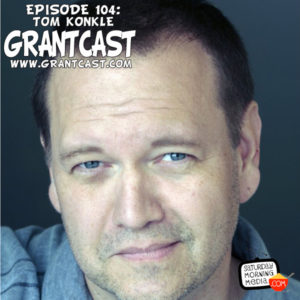 http://www.grantcast.com – This week I chat with my fried Tom Konkle who is an actor, writer and director.  We talk about his creative influences growing up, how being an only child inspired his creativity, working with his hero John Cleese and more.
CONNECT WITH TOM:
YOUTUBE – https://www.youtube.com/user/daveandtom
TWITTER – https://twitter.com/TomKonkle
IMDB – http://www.imdb.com/name/nm1015100/
DAVE & TOM – http://www.daveandtom.com
TROUBLE IS MY BUSINESS – http://troubleismy.biz
Help us make more shows like this one.  Become a patron of Saturday Morning Media and get cool rewards!  Visit http://patreon.com/saturdaymorningmedia for info!
FOLLOW US
http://www.facebook.com/saturdaymorningmedia
http://www.twitter.com/SaturdayMMedia
https://plus.google.com/+Saturdaymorningmedia
https://www.linkedin.com/company/saturday-morning-media
http://www.youtube.com/user/SaturdayMorningMedia?sub_confirmation=1
FOLLOW GRANT
http://www.MrGrant.com
http://www.twitter.com/toasterboy
https://instagram.com/throwingtoasters/