15 Minutes With pioneering podcaster Elsie Escobar – GrantCast #102
Podcast: Play in new window | Download (Duration: 26:20 — 19.9MB)
Subscribe: Apple Podcasts | RSS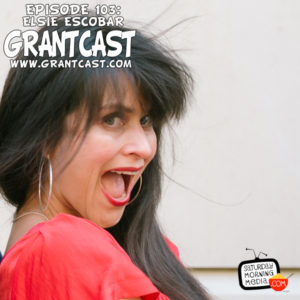 http://www.grantcast.com – Elsie Escobar is a pioneering Podcaster, former actress and yoga teacher.  In this interview we talk about her creative career including going to grad school for theatre, auditioning in Hollywood and how discovering podcasting let her put her true voice into the world.
CONNECT WITH ELSIE:
WEBSITE – http://www.elsieescobar.com
TWITTER – https://twitter.com/YoGeek
SHE PODCASTS – https://www.shepodcasts.com
THE FEED – http://thefeed.libsyn.com
Help us make more shows like this one.  Become a patron of Saturday Morning Media and get cool rewards!  Visit http://patreon.com/saturdaymorningmedia for info!
FOLLOW US
http://www.facebook.com/saturdaymorningmedia
http://www.twitter.com/SaturdayMMedia
https://plus.google.com/+Saturdaymorningmedia
https://www.linkedin.com/company/saturday-morning-media
http://www.youtube.com/user/SaturdayMorningMedia?sub_confirmation=1
FOLLOW GRANT
http://www.MrGrant.com
http://www.twitter.com/toasterboy
https://instagram.com/throwingtoasters/