15 Minutes With animator and juggler Matt Kiel – GrantCast EPISODE #101
Podcast: Play in new window | Download (Duration: 21:54 — 17.0MB)
Subscribe: Apple Podcasts | RSS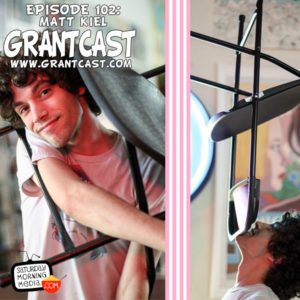 Matt Keil is an animator and juggler who found a passion for both at a young age.  In this interview on Matt's creative path we talk juggling conventions, Rochester Institute of Technology and making the move from stop motion to 2D animation.
CONNECT WITH MATT
YOUTUBE – https://www.youtube.com/channel/UC-rUUPKn8fP9tO35nrwlUIg
TWITTER – https://twitter.com/MattKiel
INSTAGRAM – https://www.instagram.com/mattkiel/
FACEBOOK – https://www.facebook.com/mattkiel3/
Help us make more shows like this one.  Become a patron of Saturday Morning Media and get cool rewards!  Visit http://patreon.com/saturdaymorningmedia for info!
FOLLOW US
http://www.facebook.com/saturdaymorningmedia
http://www.twitter.com/SaturdayMMedia
https://plus.google.com/+Saturdaymorningmedia
https://www.linkedin.com/company/saturday-morning-media
http://www.youtube.com/user/SaturdayMorningMedia?sub_confirmation=1
FOLLOW GRANT
http://www.MrGrant.com
http://www.twitter.com/toasterboy
https://instagram.com/throwingtoasters/