Toiley T. Paper: Roll Model! at Orlando Fringe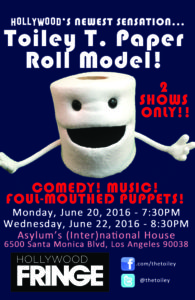 Happy to say that the show I created with my friend John B. deHaas has opened at the 25th annual Orlangoe Fringe Festival.
Toiley T. Paper: Roll Model! Is 40 minutes of crazy puppet fun starring celebrity (in his own mind) Toiley T. Paper. The show has opened to amazing reviews from the Orlando Weekly, and the Orlando Sentinel.
Performances run run through May 28th so if you're in Orlando, check it out. Dates are:
Sunday, May 22nd 7:15 PM
Thursday, May 26th 9:00 PM
Friday, May 27th 11:15 PM
Saturday, May 28th 6:30 PM
and don't worry, if you're not in Orlando, we are running the show for two nights only at the Hollywood Fringe in Hollywood, CA!