15 Minutes with Mur Lafferty – GrantCast EPISODE #073
Podcast: Play in new window | Download (Duration: 24:35 — 27.8MB)
Subscribe: Apple Podcasts | RSS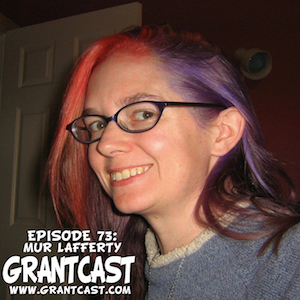 As an author, Mur Lafferty won the John W. Campbell Award for Best New Writer. As a podcaster, Mur is a inaugural member of the Podcasting Hall of Fame.  Her books include Playing for Keeps and The Shambling Guide Series: The Shambling Guide to New York City and The Ghost Train To New Orleans.  She also hosts the, long running, podcast I Should Be Writing which has helped countless writers across the globe.  In this episode I talk to Mur about her career, her thoughts on creativity and much more!  Be sure to download the free Saturday Morning Media app for even more of our conversation.
Connect with Mur Lafferty:
Website – http://www.murverse.com
Twitter – http://www.twitter.com/mightymur
This show is made possible, in part, by the generous patrons of the Saturday Morning Media Patreon Campaign.  To find out how you can support the show visit http://www.patreon.com/saturdaymorningmedia.  Another great way to support the show is by telling a friend about it or leaving the show a review on iTunes.
FOLLOW US
http://www.facebook.com/saturdaymorningmedia
http://www.twitter.com/SaturdayMMedia
https://plus.google.com/+Saturdaymorningmedia
https://www.linkedin.com/company/saturday-morning-media
http://www.youtube.com/user/SaturdayMorningMedia?sub_confirmation=1

FOLLOW GRANT
http://www.MrGrant.com
http://www.twitter.com/toasterboy
https://instagram.com/throwingtoasters/
SUBSCRIBE
http://www.youtube.com/user/SaturdayMorningMedia?sub_confirmation=1