15 Minutes with the great Luke Ski – GrantCast #71
Podcast: Play in new window | Download (Duration: 33:52 — 35.5MB)
Subscribe: Apple Podcasts | RSS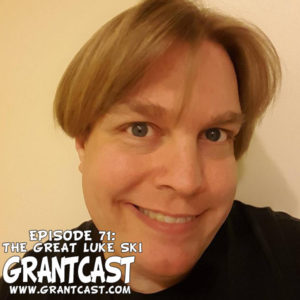 My guest this week, for this super-sized interview, is the great Luke Ski.  Luke is an artist, and animator and Dr. Demento's most requested comedy musician of the 21st century.  Luke and I discuss his career that has taken him from playing concerts at sci-fi conventions all over the country to, now, working at Cartoon Network.  It is a fun interview that proves that if you pursue your dream, you can make it happen.
Connect With the great Luke Ski:
Website – http://www.thegreatlukeski.com
Facebook – https://www.facebook.com/thegreatlukeski
Twitter – https://twitter.com/thegreatlukeski
The FuMP – http://www.thefump.com/artist.php?id=2
Bad Rapport Podcast – http://badrapport.com
This show is made possible, in part, by the generous patrons of the Saturday Morning Media Patreon Campaign.  To find out how you can support the show visit http://www.patreon.com/saturdaymorningmedia.  Another great way to support the show is by telling a friend about it or leaving the show a review on iTunes.
FOLLOW US
http://www.facebook.com/saturdaymorningmedia
http://www.twitter.com/SaturdayMMedia
https://plus.google.com/+Saturdaymorningmedia
https://www.linkedin.com/company/saturday-morning-media
http://www.youtube.com/user/SaturdayMorningMedia?sub_confirmation=1

FOLLOW GRANT
http://www.MrGrant.com
http://www.twitter.com/toasterboy
https://instagram.com/throwingtoasters/
SUBSCRIBE
http://www.youtube.com/user/SaturdayMorningMedia?sub_confirmation=1