15 Minutes with Peggy Etra – GrantCast #68
Podcast: Play in new window | Download (Duration: 26:48 — 28.4MB)
Subscribe: Apple Podcasts | RSS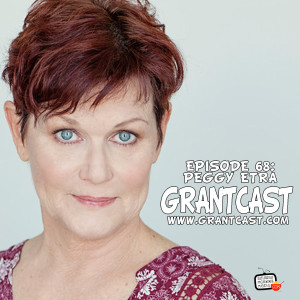 Peggy Etra is an actress, improviser, puppeteer and photographer and she is today's guest on 15 Minutes With.  We discuss her start as an actress, how delivering singing telegrams helper her confidence and how she discovered her love of photography.  This is a fun interview and Peggy is an amazing person.
Connect with Peggy Etra:
Facebook – http://www.facebook.com/peggyetraentertainment
Twitter – http://www.twitter.com/PegPuppetsUp
This show is made possible, in part, by the generous patrons of the Saturday Morning Media Patreon Campaign.  To find out how you can support the show visit http://www.patreon.com/saturdaymorningmedia.  Another great way to support the show is by telling a friend about it or leaving the show a review on iTunes.
FOLLOW US
http://www.facebook.com/saturdaymorningmedia
http://www.twitter.com/SaturdayMMedia
https://plus.google.com/+Saturdaymorningmedia
https://www.linkedin.com/company/saturday-morning-media
http://www.youtube.com/user/SaturdayMorningMedia?sub_confirmation=1

FOLLOW GRANT
http://www.MrGrant.com
http://www.twitter.com/toasterboy
https://instagram.com/throwingtoasters/
SUBSCRIBE
http://www.youtube.com/user/SaturdayMorningMedia?sub_confirmation=1