15 Minutes with Tiff Gravel – GrantCast #67
Podcast: Play in new window | Download (Duration: 26:04 — 27.8MB)
Subscribe: Apple Podcasts | RSS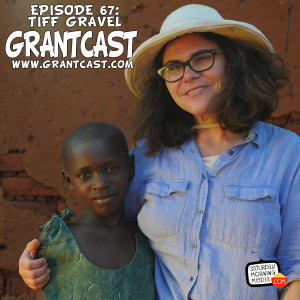 It's not often you can use the the word 'adventurer' when describing someone but that is the perfect word to describe Tiff Gravel.  She's a film maker and photographer who has spent several months in Africa, most recently filming a documentary called In The Shade of the Mango Tree.  In addition she worked on the first of the most recent Muppet movies and with Leslie Carrara-Rudolph on her project Wake Up Your Weird.  This is a truly fascinating talk with a truly unique individual.  This is one not to miss.
Connect with Tiff Gravel:
Website – http://www.TiffGravel.com
Film – http://www.NoddingFilm.com
Instagram – http://www.instagram.com/grifftravel
This show is made possible, in part, by the generous patrons of the Saturday Morning Media Patreon Campaign.  To find out how you can support the show visit http://www.patreon.com/saturdaymorningmedia.  Another great way to support the show is by telling a friend about it or leaving the show a review on iTunes.
FOLLOW US
http://www.facebook.com/saturdaymorningmedia
http://www.twitter.com/SaturdayMMedia
https://plus.google.com/+Saturdaymorningmedia
https://www.linkedin.com/company/saturday-morning-media
http://www.youtube.com/user/SaturdayMorningMedia?sub_confirmation=1

FOLLOW GRANT
http://www.MrGrant.com
http://www.twitter.com/toasterboy
https://instagram.com/throwingtoasters/
SUBSCRIBE
http://www.youtube.com/user/SaturdayMorningMedia?sub_confirmation=1