15 Minutes with 12 Monkeys and Dear God actor Felix Pire – GrantCast #65
Podcast: Play in new window | Download (Duration: 27:14 — 29.4MB)
Subscribe: Apple Podcasts | RSS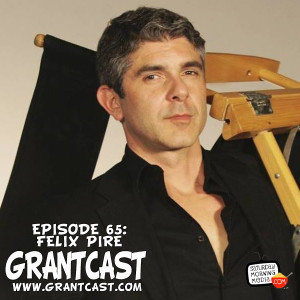 Felix Pire is an actor who has starred in such films as 12 Monkeys, Dear God and Phat Girlz.  He is creator of his own Latin influenced puppet web series Los Titeres TV.  In this interview we talk with Felix about all these projects and more!
Connect with Felix Pire:
Website – http://www.felixpire.com
Los Titeres – http://www.LosTiteres.tv
Facebook – https://www.facebook.com/Felix-Pire-126610630741686/
Twitter – https://twitter.com/felixpire
This show is made possible, in part, by the generous patrons of the Saturday Morning Media Patreon Campaign.  To find out how you can support the show visit http://www.patreon.com/saturdaymorningmedia.  Another great way to support the show is by telling a friend about it or leaving the show a review on iTunes.
FOLLOW US
http://www.facebook.com/saturdaymorningmedia
http://www.twitter.com/SaturdayMMedia
https://plus.google.com/+Saturdaymorningmedia
https://www.linkedin.com/company/saturday-morning-media
http://www.youtube.com/user/SaturdayMorningMedia?sub_confirmation=1

FOLLOW GRANT
http://www.MrGrant.com
http://www.twitter.com/toasterboy
https://instagram.com/throwingtoasters/
SUBSCRIBE
http://www.youtube.com/user/SaturdayMorningMedia?sub_confirmation=1