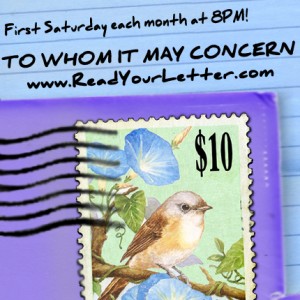 This Saturday night, October 4, 2014 at 8:00PM, I'll be participating in the To Whom It May Concern show at the Lyric Hyperion Theatre and Cafe.  This is a really fun evening where people read read letters they have written or received, in front of an audience.  I've done the show a few times before, but this will be the first time I'll be reading a deeply personal letter I have written.  I'd love for you to be there.
The show is the mastermind of, the amazing, Jayne Entwistle and is recorded monthly for a podcast.  I've done the show twice before, once reading letters kids sent in to Dr. Steve of The Radio Adventures of Dr. Floyd and once improvising a letter with my good friend Chris Sheets.   It's always a fun show and well worth the $10 at the door!  Don't miss it!
If you'd like to hear my previous appearances at To Whom It May Concern, links to the podcast episodes are below.  Please note, there is some NSFW language and themes in some of the letters by other people.
The show with the Letters to Dr. Steve

The Show where I make up letters with my pal Chris Sheets