New Cinematic Titanic DVD – July 17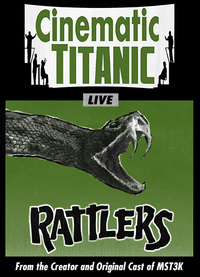 There's a new Cinematic Titanic DVD on the horizon!  The film being riffed this time is RATTLERS and you'll be able to order it on July 17th!
As you may, or may not know, I am an associate producer for Cinematic Titanic and I've worked on all, but one of their releases.  Unfortunately, I have to watch the films BEFORE the riffs are added in, but that makes me doubly excited to see them when they are released.  This one, RATTLERS, is especially fun for me as I remember watching this film on TV as a kid.
The trailer is below.  Give it a watch and I think you'll agree that it has the makings of a classic!