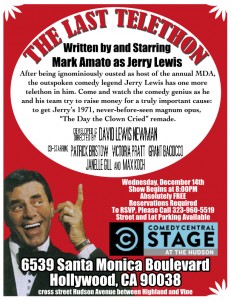 I'm making a return to 'actual theatre' for the first time in a long time in a new show called THE LAST TELETHON.  It's a crazy show about Jerry Lewis raising money to get his film "The Day The Clown Cried" remade.   It's a must see.  The cast is incredible and I'm in it too.  Here's the info:
THE LAST TELETHON
Written By & Starring Mark Amato as Jerry Lewis
December 14, 2011 @ 8PM – FREE!
After being ignominiously ousted as host of the annual MDA, the outspoken comedy legend Jerry Lewis has one more telethon in him. Come and watch the comedy genius as he and his team try to raise money for a truly important cause: to get Jerry's 1971, never-before-seen magnum opus, "The Day The Clown Cried" remade.
Developed & Directed by David Lewis Newman
Co-Starring Patrick Bristow, Victoria Pratt, Grant Baciocco, Janelle Gill and Max Koch
Wednesday, December 14th, 2011
Show begins at 8PM
ABSOLUTELY FREE
Reservations Required
To RSVP, Please Call 323-960-5519
Street and Lot Parting Available
Comedy Central Stage at The Hudson
6539 Santa Monica Boulevard
Hollywood, CA 90038
cross street Hudson Avenue between Highland & Vine